14 Nov

Modern bathroom furniture, what are the latest trends?
What is needed for modern bathroom furniture?
How many times, during a renovation, have you wandered onto Pinterest and got lost among the photos of beautiful living rooms and fantastic kitchens, luxurious bedrooms, and dream bathrooms? Maybe right now you are in the middle of a renovation, and you are looking for the elements to create the perfect modern bathroom furniture for your home. 
There are many different furnishing elements (and more) that can create a bathroom with a modern look and an up-to-date interior design trend. We are talking about sanitary ware with square shapes, furniture with clean lines and bright colours, walk-in showers, or bathtubs with elegant lines. You will be surprised to learn that doors and sliding panels also play a key role in the success of a perfect design. Join us as we discover the best trends in modern bathroom furniture!
Modern bathroom furniture ideas: furniture, sanitary ware, and colours you don't expect!
Interior design trends – like those in the world of fashion – never stop, and every year they amaze with new and special elements, and there is no shortage of proposals when it comes to modern bathroom design ideas. 
Frequently, modern bathroom furniture is synonymous with minimalism: in fact, you will find bathrooms with furniture raised from the floor with essential and clean geometric shapes, glass shower cubicles with elegant metal profiles and sanitary fixtures (also raised from the floor) with squarer shapes. However, this minimalist look has also been complemented by some elements that give an elegant yet characterful touch, such as cement tiles or tiles with geometric designs.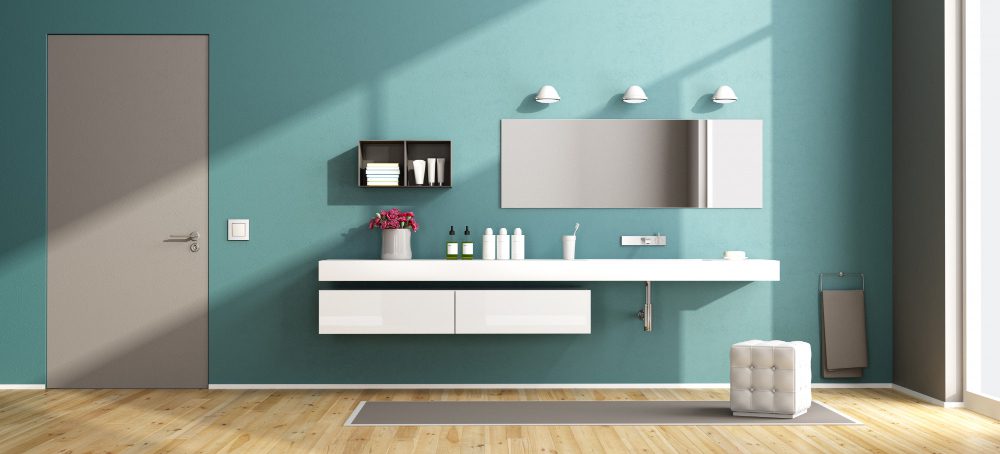 One element that has undergone a noticeable change in style over the years is the shower enclosure. Forget the classic high shower trays and unattractive glass panes, now the latest trend for a modern bathroom is the walk-in shower cubicle – i.e., one without a door and with only one pane of glass to divide the space – with a floor-level shower tray attached. In this way, you will undoubtedly obtain a luxurious, sophisticated, and elegant-looking bathroom that will have nothing to envy to the bathrooms of luxurious five-star hotels. 
For the more imaginative, lovers of vibrant colours and modern style, the latest trends offer a real fusion of the two: vibrant wallpapers, furniture in strong, bubbly tones and colourful sanitary ware come together to create a modern, up-to-date bathroom décor. A few examples? This bathroom with petrol blue tones and botanical wallpaper or a bathroom with peach-coloured furniture and gold trim. 
Organise space with modern bathroom furniture
Can modern bathroom furniture and space organisation go hand in hand? The answer is yes. For small bathrooms, for example, we can suggest you renounce a classic hinged door and turn towards an in-wall sliding door, such as the Leonardo or Frameless proposals by Eurocassonetto. By doing so, you would have less sacrificed space. 
Often – particularly if they are shared by a large family – bathrooms can be confusing: the ideal solution for keeping everything clear and tidy could lie in a concealed cupboard with sliding panels containing everyone's belongings. Oro by Eurocassonetto, with its elegant and modern design, lends itself well to the task. 
For those who, on the other hand, do not have a room to use as a laundry room or simply for those who prefer to include the washing machine and dryer in the bathroom, but still do not want to leave them in sight, one could opt for a storage cupboard with sliding panels in which to "hide" the two appliances. 
In some more modern homes, however, sliding panels could be used to conceal the bathroom within the sleeping area, enclosing the bathroom in a "box" of sliding panels with a see-through effect. 
The solutions to create a modern, elegant, sophisticated bathroom with a touch of liveliness are certainly not lacking, it is up to you to choose the solution that best suits you! At Eurocassonetto, as always, we take care of our customers, following them from start to finish with the seriousness and professionalism that distinguishes us. Do not hesitate to contact us by phone on +39 0922 31885 or by e-mail at info@eurocassonetto.com.