13 Mar

Scandinavian style: simplicity and functionality

When you imagine your dream home, you often think of all those pictures you have seen on Pinterest or in magazines, where pastel colours, very bright rooms, and materials such as wood are predominant. This is called Scandinavian style, so much in vogue recently. Let's see together what it is characterised by.

 
It is not known exactly when the Scandinavian style originated as it took shape from Nordic design, which largely characterises the modern world. Following the two world wars, Europe was flooded with a strong desire for modernity. This new fashion brought from the Nordic countries a style that placed great importance on the natural characteristics and forms of materials.
The philosophy of this type of design can be summarised as 'function is the main aspect of every piece of furniture'. Homes furnished in the Scandinavian style are immediately recognisable as they instantly offer a feeling of warmth and purity, especially due to the prevalence of the colour white. 
The design is rationalised in each choice – even where details seem randomly chosen – with the aim of creating harmony. The Scandinavian style exists in different types: vintage, modern or mid-century suitable for the nostalgic and is characterised by shades of orange and yellow in the details and the prevalence of wood.
Two basic words perfectly express the characteristics of the Nordic style: light and wood. This is because in northern European countries for several months of the year the night is longer than the day, so it is essential to have plenty of light in the homes, precisely to make them more liveable and cosier. The light must come in through the windows, which are usually very large, plentiful, and light-coloured, as they should be able to capture the light and make the rooms look larger.
The second fundamental aspect of the Nordic style is wood, as it is quite easy to get wood in these places, thanks to the many forests around. Houses are also built with this material, as it has a high insulating power ideal for sheltering from the strong cold, especially during the winter months.

Other predominant elements in Nordic-style homes are long-pile carpets, as their soft texture makes them warm and cosy, ideal for filling the space between sofas, under the table or next to the bed.

The choice of white or light wood is iconic, especially in kitchens and living rooms.
For example, we often find in magazines a kitchen with white and wooden shelves and cupboards, which are balanced between the upper and lower parts precisely to create harmony. In addition, the cabinet doors can be matt, instead of glossy, to ensure a look that is even more in keeping with this style.

In the Scandinavian style, it is necessary to create a focal point in the room, for example with the help of a dining table, which can have exposed grain with geometric legs: it is common to choose one with a single element located in the centre, from which the table legs branch out diagonally.
In general, for wooden elements, one suggestion is to always give the wood a protective, waterproof treatment, precisely to prevent food or drink stains from ruining it, and many times the damage cannot be rectified.
If you can fit a retractable door in your home, choose an external sliding wooden door and in this way, you will have an ambience characterised by warmth and rustic charm. For lighting, you may prefer lamps with special shapes, and you can choose a warm or natural light tone to increase the cosy look of the room.
A final tip is not to set aside details at all as they will emphasise the furnishings. You can add lots of cushions on the sofas, always using the appropriate palette, and functional and original objects, obviously in line with the Nordic style.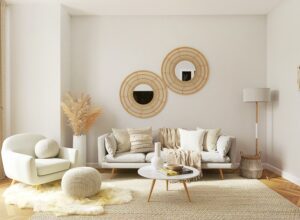 Wood is present almost everywhere in the Scandinavian style, from furniture to flooring and from fixtures to windows. Light colours are particularly recommended, as they give rooms a more contemporary look than dark colours and offer warmth and brightness. You can choose from shades such as maple, beech, walnut, and spruce.
To offer a very strong feeling of warmth and nature, one piece of advice is to choose furniture made of natural wood. If there is enough space, you could choose it for a dining table or details – e.g., mirrors, picture frames, coffee table and coat rack.
To create the perfect Scandinavian style, it is also important to select fabrics well, such as wool, cotton and linen for cushions and blankets.
In addition to white, the colour palette for a Scandinavian interior design features bright, light shades to be chosen according to one's taste. One example is grey, which can have different shades, such as pearl, platinum, and dust, and goes quite well with white and light wood.
Lately, a grey to a beige shade called greige has become very popular. It is a mixture of warm and cool notes of both colours, resulting in an elegant, yet minimal, contemporary, and neutral look. It is most suitable to choose this shade for walls.
If you don't want to use colours that are too simple, but would like special tones, you can select pastel shades such as sage green, ivory, powder pink and matt turquoise. The important thing is to always go for light, soft colours rather than dark or bright ones. Curtains should not be heavy but very lightweight, precisely to let natural light in well.
Which type of doors are perfectly suited to a Nordic design?
Eurocassonetto has been producing sliding systems and counter frames for concealed doors for years. Flush-to-wall doors or sliding doors are perfectly suited to a Nordic design.
This door has a counter frame with no height limit and no frame. It is a minimalist yet elegant retractable sliding door. The structure consists of an aluminium track, which allows the door to be encased within the subframe.
This flush-to-wall hinged door system is the right solution for modern and current furnishing and design trends. It becomes completely invisible, as it has no frills or obvious details. The flush-to-wall system is supplied without hinges, frame, and lock, and is also available in non-standard dimensions on request. The door panel can be chosen in different colours and finishes so that they can be painted to your taste or the same shade as the wall.
This door not only disappears into the wall when it is open but also when it is closed, because it blends in with the room and the wall. 
Whatever style you have chosen to furnish your home with Eurocassonetto you will have everything you are looking for. Do not hesitate to contact us by phone at +39 0922 31885 or by e-mail at info@eurocassonetto.com.