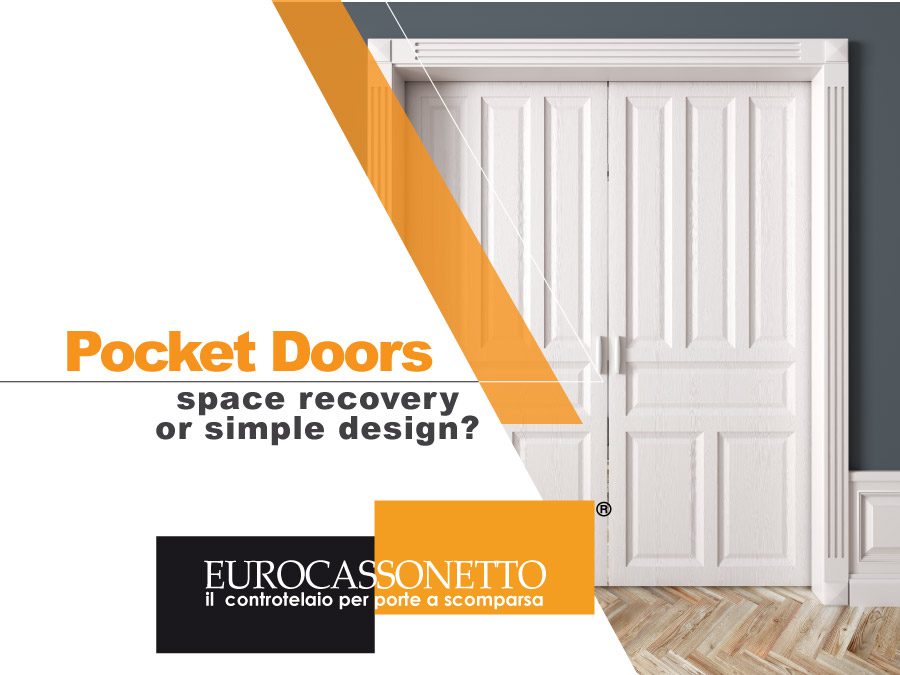 10 Giu

Pocket Doors: space recovery or simple design?
The many secrets of pocket doors
Are you struggling with revamping your house and looking to know more about pocket doors? Whether dictated by a need to create space in a small room, or by a desire to enrich your house's design, the choice of the perfect sliding door can be the turning point in your renovation.
When designing a pocket door and its overall aesthetic, materials are probably the most important element to consider. The materials for a pocket door can be many and before choosing them, you must take into account the environment they will be placed into a wooden door would be the optimal choice for a look that feels sophisticated and classic while also looking modern; glass, aluminum, or mixed materials (glass and aluminum together) can instead add a personal touch to the environment.
Basically, there are many choices! Keep reading to find out more about how to use pocket doors.
Sliding doors for small spaces 
Usually, small houses are always in need of new ways to optimize the living space, such as could be replacing classic swing doors with space-saving alternatives such as pocket doors. In fact, using pocket doors in small rooms can be a critical choice not only in terms of creating a sense of spaciousness, but also to achieve a cleaner and more elegant look.
To maintain the right lighting – which plays such a fundamental role in interior design – as well as to create a visual division between two adjacent spaces, the choice could fall on glass pocket doors would be the top pick. By using this type of doors, two environments can be divided without losing the light, creating a continuity within the home spaces.
Furthermore, pocket doors can be extremely convenient when the house has a small bathroom: by taking up less space, it will allow for the insertion of larger shower compartments, bathroom fixtures, or bigger cabinets to better store and organize bathroom essentials.
Pocket doors for large spaces 
However, the usefulness of pocket doors is not limited uniquely to small spaces—larger living spaces can also benefit from such an inclusion, whether just for their function or their design.
If combining functionality and design is a must for you, building pocket doors can be the perfect solution. Wide pocket doors, possibly with two overlapping doors such as our Eurocassonetto Michelangelo, are ideal to connect two contiguous areas of the house and to give them an elegant look.
On the other hand, sliding doors – with their fluid and elegant effect – are definitely recommended for those who have enough space to insert a built-in wardrobe, but would rather deviate from ordinary choices.
In this case, the choice of materials is fundamental: wooden sliding doors would convey a more sophisticated look, whereas aluminum doors allow for a more fluid and lighter look. This space-saving solution could be crucial in small homes, where every single inch of space counts.
The meeting point between the entrance and the living room is yet another environment that can benefit from the presence of doors that slide inside the walls. In this instance, the doors would not only serve to create a division between environments, but also to make the living area as private as possible.
If you are keen to know more about pocket doors and how it could be a perfect choice for your home, there is an interesting article where we talked about it deeper. You can find it in our on-line magazine here.
It is always important to rely on experts in the sector, for this reason we at Eurocassonetto are always ready to provide you with our advice and our help, to guide you professionally in your choice.