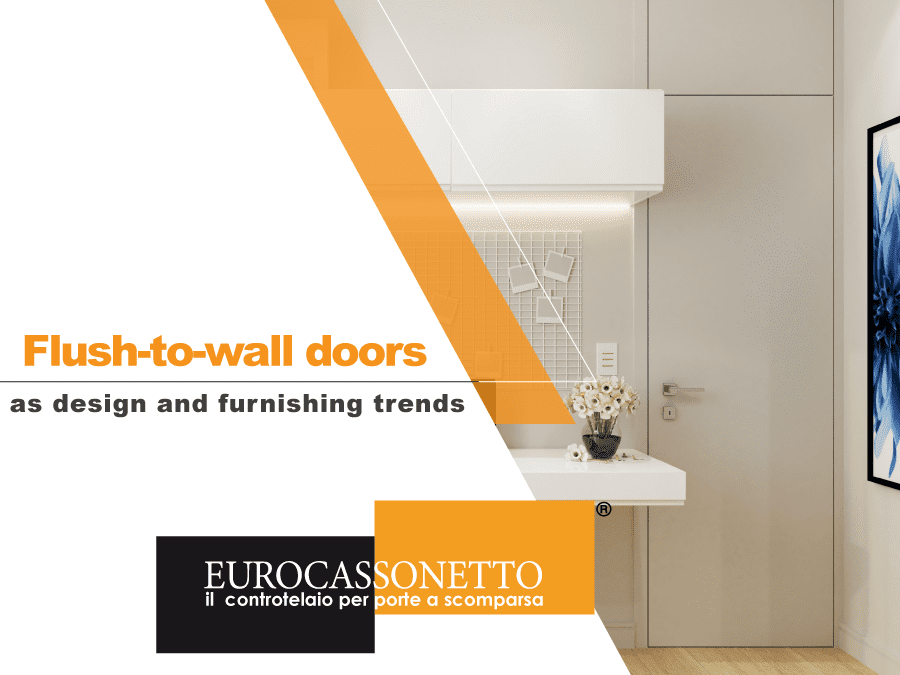 26 Ago

Flush-to-wall doors as design and furnishing trends
Flush-to-wall doors – what is it? 
While watching some National Geographic documentary you may have come across the tiny and very clever chameleon, a reptile that manages to perfectly camouflage itself with its surroundings by replicating colors and shades often becoming almost invisible to the eyes.
Well, we could say that a flush-to-wall door is a bit of a building chameleon. Indeed, the flush-to-wall hinged door is an element that has no visible jamb, frame, or cornice and blends perfectly with the wall in which it is inserted creating a true visual continuity that lends elegance to the entire aesthetics.
If you are in the midst of a renovation or laying the foundations for a brand new house, then read on, because we are going to tell you all the secrets about the flush-to-wall hinged door, so that you can choose the one that best suits your needs. 
How does it work and how to choose the perfect flush-to-wall hinged door? 
How does an ordinary swing door differ from a flush-to-wall door? The difference is minimal and is mostly 'hidden' to the eye. The flush-to-wall hinged door rotates around a vertical axis thanks to the hinges, positioned on the opposite side of the handle, which in this case are invisible because they are inserted inside the frame.
Furthermore, as we mentioned earlier, in the case of flush-to-wall doors, there is no jamb or frame visible to the naked eye, so there is a real fusion between the door and the wall, so that they appear as a whole, in which the only thing visible remains the handle, unless you opt for a different design, perhaps choosing to apply a different color or some other decorative element.
In fact, on request, flush-to-wall doors are delivered 'unfinished', like a painter's blank canvas, so that one can indulge one's imagination and make the environment in which they are inserted more special.
For example, you can choose to paint them in a contrasting color to that on the wall, to give a sharp, decisive, and expressive break. You can choose to cover the door with wallpaper, either to match the wall or to make it more distinctive and witty.
Usually, the most frequent choice is to use the same color as the wall and to employ a discreet handle that fits perfectly with the door, thus making the door even more 'chameleon-like'.
For those who are looking for a more classic, minimalist, or elegant style, then the choice may fall on a glossy or matt lacquered, wooden, glass, or mixed material door.
A further element of versatility of flush-to-wall hinged doors is their size. They can be made in both standard and customized sizes. You can choose to make them for the entire height of the wall up to the roof to further delineate the flush effect and make the space even more elegant and refined. In addition, they can be adapted to parts of the house with smaller and more particular spaces, such as a crawl space or an attic.
Which is the best option: plaster or plasterboard wall with a flush-to-wall hinged door?
Staying on the subject of versatility it is certainly important to know that this type of door is perfectly suited to both plaster and plasterboard walls. In the specific case of this type of door, it would be better to set aside DIY and have the entire structure installed by professionals: for the doors to be perfectly functional and not ruin the elegant wall-cleaning effect, it is right that professionals should dedicate themselves to the installation of the frame and then the door.
Flush-to-wall doors are very strong and the frame is specially reinforced to resist shocks, but it is
always important to look for excellent, top-quality materials. Among Eurocassonetto proposals, for example, you can choose 'Filo', the perfect solution for your flush-to-wall hinged door that perfectly combines elegance, style, and quality.
At Eurocassonetto we always put the customer first. We will always try to guide you in making the perfect choice for your home.